A GREAT VARIETY OF SOILS
In Wettolsheim, the Joseph Moellinger Estate works with plots classified as Grand Cru in the wine growing areas Hengst, Pfersigberg and Steingrubler.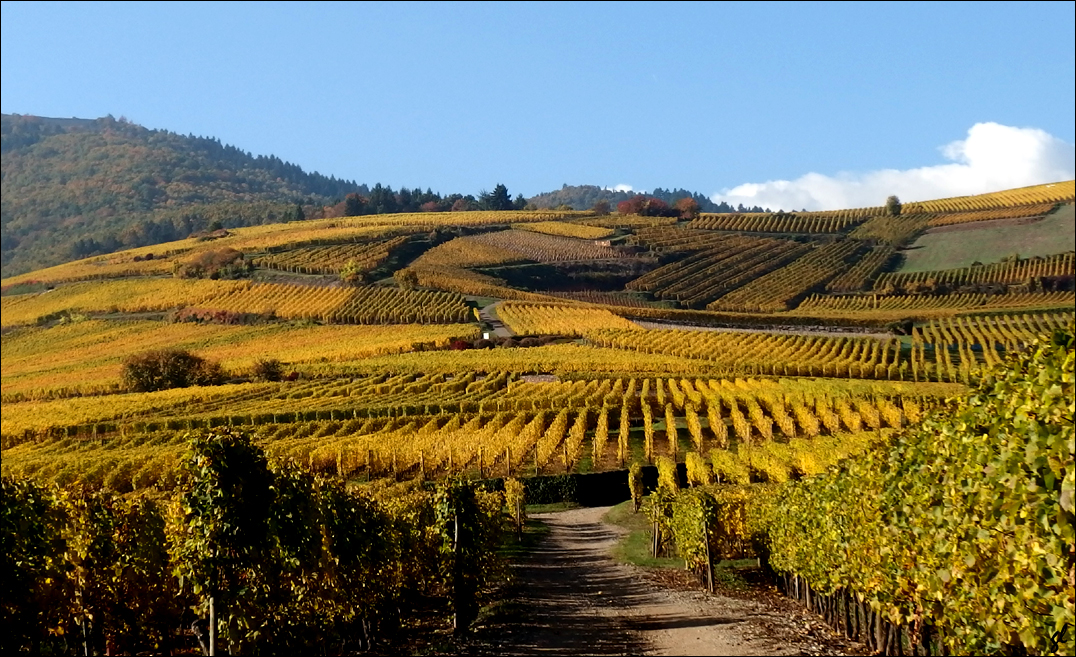 • Grand Cru Steingrubler : a true Wettolsheim Grand Cru, the Steingrubler area is located on a south-easterly hillside. Its soil, made up of stony calcareous marl and sandy clay, is established on marl and conglomerates from the Oligocene epoch and partially covered in scree and granitic arenite. The Steingrubler Grand Cru wines age remarkably well. They are full-bodied, rich in aroma with a powerful structure.
• Grand Cru Hengst : located between Wintzenheim and Wettolsheim, the vineyard faces a south southeasterly direction over a markedly steep slope. The soil consists of conglomerates from the Oligocene epoch and calcareous marl which imparts strong character and full body to the wine. When they are young, wines from the Hengst area have a untamed character in accordance with the origins of the name of the area (Hengst means stallion). Ageing softens, refines, and subdues the wine. This wine has got an amazing capacity to age well.
• Grand Cru Pfersigberg : the calcareus marl soil of the Pfersigberg area in Eguisheim and Wettolsheim consists of a platform of hard limestone covered with different types of stones, predominantly composed of calcareous marl. The grand cru wines of Pfersigberg are full bodied and rich and complex.
• Lieu-dit Rosenberg : "the rose hills" are vineyards situated on the easterly slope of the hills of Wettolsheim. The soil is composed essentially of calcareous clay. The soil and the mild climate produce full bodied wines of exceptional quality.